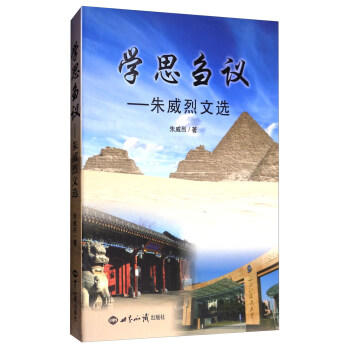 Publishing information:
Title: "Attempting Discussion of Academic Thoughts: Zhu Weilie's Selected Works
Author: Zhu Weilie
Publisher: World Knowledge Publishing House
Publication date: August 1, 2017
Number of pages: 332 pages
ISBN: 9787501255696
Executive summary:
The author of "Attempting Discussion of Academic Thoughts: Zhu Weilie's Selected Works has been engaged in teaching and research on Arabic language culture, issues on Middle East and Islam for more than fifty years. He has published dozens of academic achievements such as monographs translations, and enjoys a high prestige in the Arabic language circle. He was awarded the title of "Senior Translator" by the Chinese Translation Association, and was commended by the Egyptian Ministry of Higher Education and the Ministry of Culture, also gained many other honors like the "Gulf Cooperation Committee Award" and the "Saudi Abdullah King World Translation Award".The author has selected more than 30 articles from the articles published over the years as "Attempting Discussion of Academic Thoughts: Zhu Weilie's Selected Works", which is divided into two parts: discipline construction and research discussion.
It mainly includes the following items:
Written in Front: My Little Academic Pursuit
Part One : Discipline Construction
Excellence in Both Professional Skills and Moral Integrity, a Model Teacher for Generations
As Nature's Movement is Ever Vigorous , So Must a Gentleman Ceaselessly Strive Along : Impression of Professor Nazhong
Achievements of the Oriental Academy in the Teaching of Chinese as a Foreign Language
Preface to the " Basic Course of Arabic Cultural Background Knowledge"
Mr. Ma Jinpeng: A Muslim Scholar Who Serves as a Link between Past and Future
Han-Hui Scholars Build together China's Arabic Studies in harmony
Congratulations on the Birth of Extended Set of the "Chinese Version ( the Koran ) History"
—Preface (the Koran) in China
Model Teacher for Generations, Everlasting Charm
— On the 90th Anniversary of Mr. Liu Linrui's Birthday
Cherishing the Memory of Elder Generation in Arabic Teaching Who Promoted the Construction of the Arabic Language Discipline
Verdant Trees and Gurgling Springs Herald a Vibrant Season
— Review of Arabic Language Construction for 30 years
Running into Difficulties, Grinding Mortar into Needle
Create Traditions and Highlight Features
— Discussion of Arabic Language Major in New China, 60 years' development
Adhere to the Path of Connotative Development of the Subject
Valuable Historical Memory
Me and Translation
Ten Years to Cast a Sword, No Regrets in Pitching
— Congratulations to Professor Li Zhenzhong's translation of " Introduction to History "
Part Two : Research Discussion
After Watching the "Battle of the Kramers "
Brief Introduction to the Generation of Comparative Literature
Stones from Other Hills May Serve to Polish Jade
— Foreword
View Mr. Ji Xianlin's Academic Thoughts in a Cultural Strategy Perspective
Introduction to International Cultural Strategy Research"
General Preface to Society and Culture in Contemporary Middle Eastern Countries"
Reflexions on the US-Iraq War and Chinese Energy Strategy
Islamic World at the Crossroads
Civilization Dialogue and Great Middle East Reform
Preface to Opinion and Dissent - The Rise of Al Jazeera Network"
Not Only a Festschrift, But Also a Historical Document
Islamic Civilization and the World
A Distinctive and Influential Platform for Academic Exchanges
Views on Strengthening Scientific Research Work in Foreign Languages Universities
Understanding and Respect: Reflections on Constructing China's Discourse System in Middle East Studies
Preface to "Politics and Society in the Middle East"
The Mechanism and Experience of China's Hot Diplomacy
— from the Perspective of Multilateral Diplomatic Mechanism
Thoughts on the Diplomatic Strategy of Keep a Low Profile and Make a Difference"
Preface to "Islamic Radical Organization"
Perspectives on the Strategic Relationship between China and the Islamic Countries in the Middle East
Grasp the Opportunity, Choose the Path, and Realize a New Soar in Ningxia
Grasp the Current Opportunity to Strengthen the Building Capacity of Opening up
Many a Little Make a Mickle
— Congratulations to Ambassador Wu Sike's Collected Works
Construction of Belt and Road Initiative Should Attach Importance to Building a Community of World Civilization Values
About the Author
Professor of Shanghai International Studies University, PhD supervisor, Director of the Expert Committee of the CARC, Honorary Director of the Middle East Institute, and Director of the Middle East Research Think Tank of Shanghai University. A part-time member of the Department of Comprehensive Studies of the Social Science Committee of the Ministry of Education, and an academician or honorary researcher of academic research institutions such as Jordan, Egypt and Saudi Arabia. He graduated from Peking University with a major in Arabic in 1965 and taught at SISU for more than 50 years. From 1978 to 1980, he studied at Cairo University sponsored by government. From 1980 to 2015, he was the editor-in-chief of the journal "Arab World (Research)". Since 1991, he has received the special allowance. He has served as the head of the Arabic Department of SISU, the Dean of the Social Science Research Institute, and the Director of the Middle East Institute. He is mainly engaged in the teaching and research of Arabic language culture and Middle East and Islamic issues, and has completed a number of Shanghai projects and tasks proposed by national ministries, published dozens of academic achievements such as monographs and translations. He was awarded Shanghai Excellent Education Worker, Model Worker, and Senior Translator of China Translation Association, also commended by the Egyptian Ministry of Higher Education and the Ministry of Culture, granted the Saudi Abdullah King World Translation Award and many other honors at home and abroad.