On September 8, the Ministry of Foreign Affairs held the 3rd China-Arab Reform and Development Forum on the basis of theChina-Arab Research Center on Reform and Development(CARC). Zhai Jun, Special Envoy of the Chinese Government on Middle East Issues, Khalil, Assistant Secretary-General of the Arab League, Mugir, Director of the Abu Dhabi Social Development Authority of the United Arab Emirates, and Li Yansong, President of Shanghai International Studies University, attended the opening ceremony and delivered speeches. Li Chen, Ambassador of China-Arab Cooperation Forum of the Ministry of Foreign Affairs host the meeting. More than 20 experts and scholars from China, Egypt, the United Arab Emirates, Saudi Arabia, Qatar, Iraq, Yemen, Palestine, Lebanon, Sudan, Algeria, Morocco and other countries focused on global development initiatives and discussed China-Arab development plans.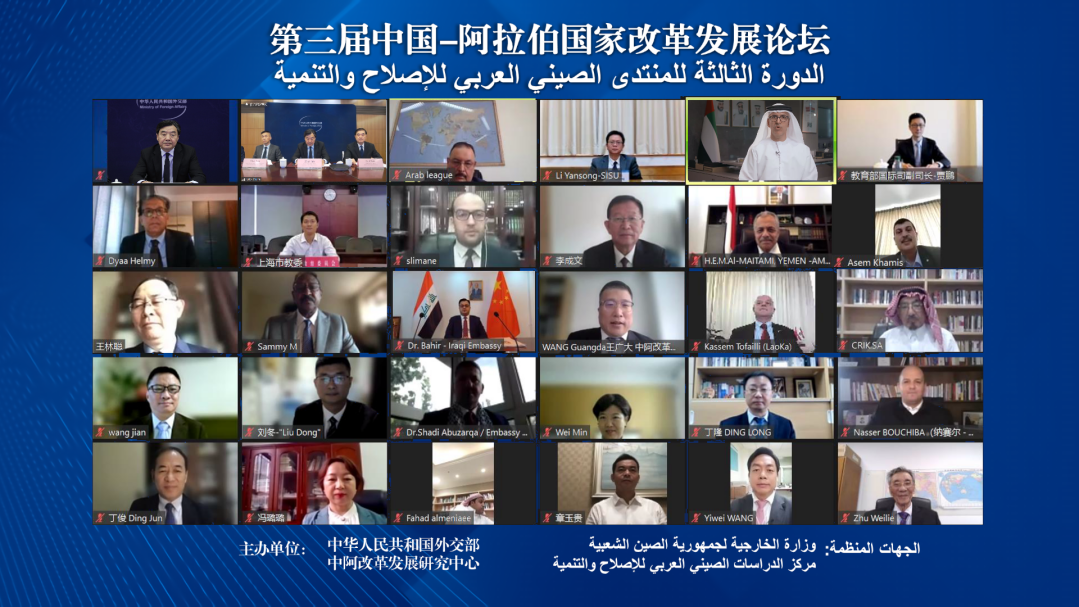 Experts and scholars from China and Arab countries conducted in-depth exchanges and discussions on the two major topics of "strengthening the alignment of development strategies and jointly promoting global development initiatives" and "adhering to innovation-driven development to achieve strong, green and healthy development". Experts at the meeting highly appreciated the Global Development Initiative, saying that the initiative will help promote the return of development issues to the core international agenda, and it is in line with the common will and direction of China and Arab countries to seek peace, development and cooperation. The two sides should continue to build consensus and synergy in promoting China-Arab development, strengthen complementary advantages, and promote practical cooperation in scientific and technological innovation, food security, desertification control, seawater desalination, climate change, vaccine research and development, digital economy, poverty reduction and other fields. The development initiative will provide intellectual support in the Arab direction and contribute to building a China-Arab community with a shared future for the new era.
The China-Arab States Reform and Development Forum was organized by the Ministry of Foreign Affairs on the basis of CARC, which has built an effective platform for China and Arab countries to strengthen governance and exchange of experience in reform and development.